Thanks for Visiting FABTECH
Randbright & Dubois Equipment Company
We look forward to connecting with you!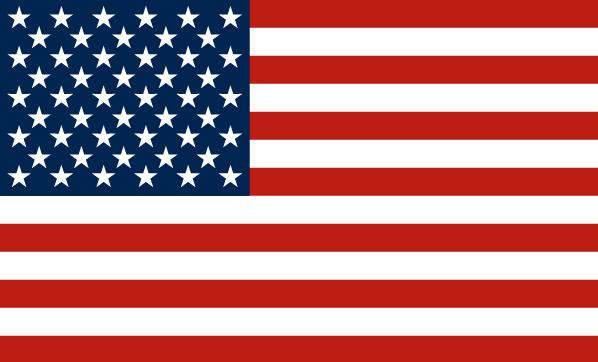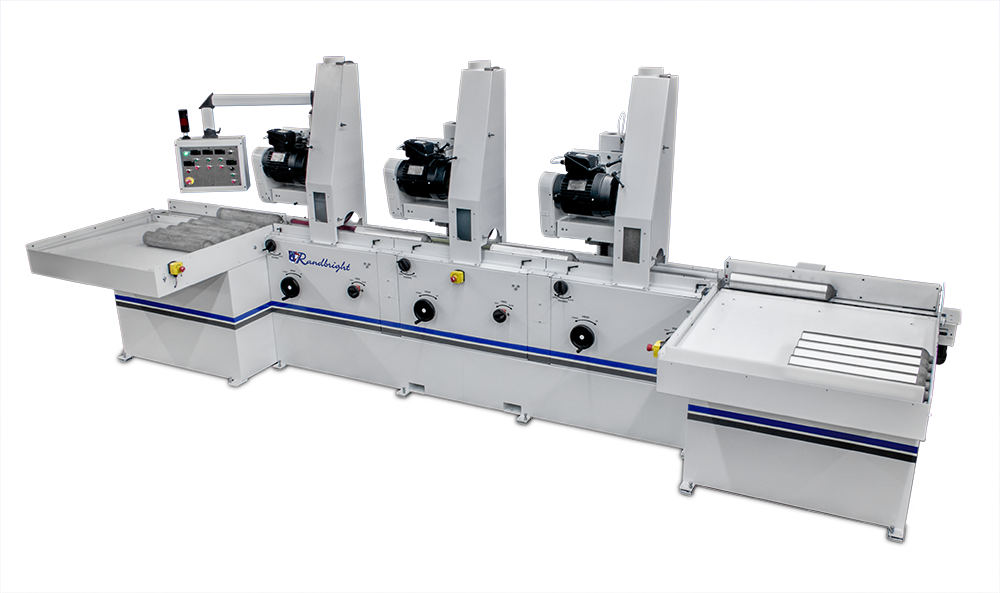 Randbright™ (Dry/Wet) Centerless Deburring, Finishing and Polishing Machines and Systems run a variety of abrasive belts, finishing wheels, wire brushes, and buffing wheels for deburring, finishing, polishing, grinding and cleaning.
Our machines are a modular design utilizing common platforms, muli-head configuration,  and locally sourced component parts. This allows us maximum flexibility when building a machine specifically for you.
100% Designed, Engineered,
Manufactured & Serviced in the USA.
| | | | | | | | |
| --- | --- | --- | --- | --- | --- | --- | --- |
| RB 10D | Dry | 1 HP | 1" | 4" long by 7.25" diameter | 1"x37.78" or 2"x37.78" | 1"-2" wide by 12" diameter | 1 inch |
| RB 60D | Dry | 5 HP | 1.25" | 18" long by 7.25" diameter | 4"x90" | 4" wide by 12" diameter | 6 inches |
| RB 60W | Wet | 5 HP | 1.25" | 18" long by 7.25" diameter | 4"x90" | 4" wide by 12" diameter | 6 inches |
| RB 80D | Dry | 10 HP | 2" | 32" long by 11.25" diameter | 6"x90" | 6" wide by 14" diameter | 8 inches |
| RB 80W | Wet | 10 HP | 2" | 32" long by 11.25" diameter | 6"x90" | 6" wide by 14" diameter | 8 inches |
| RB 120D | Dry | 15 HP | 2' | 32" long by 11.25" diameter | 8"x90" | 8" wide by 14" diameter | 12 inches |
| RB 120W | Wet | 15 HP | 2' | 32" long by 11.25" diameter | 8"x90" | 8" wide by 14" diameter | 12 inches |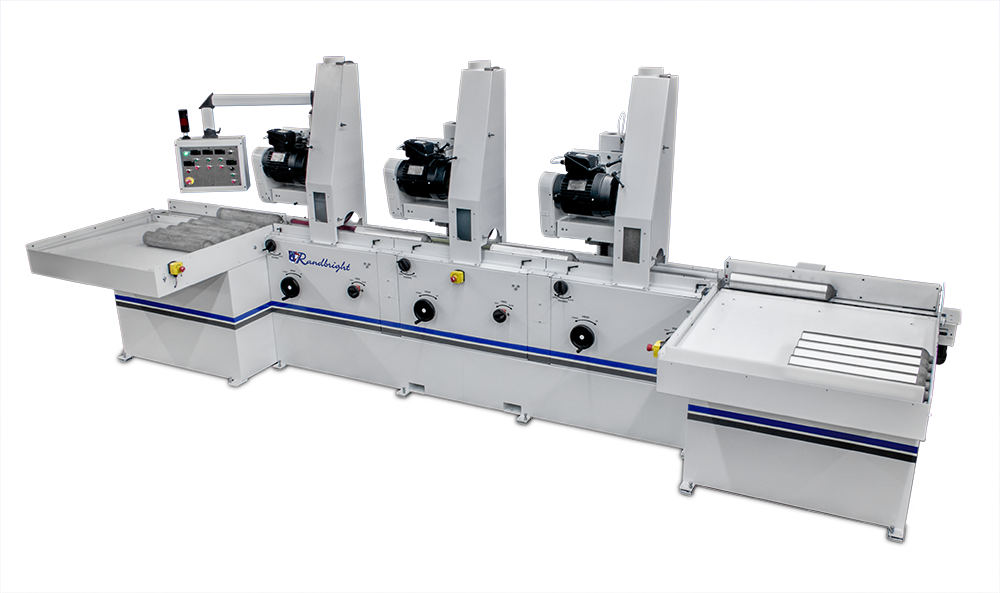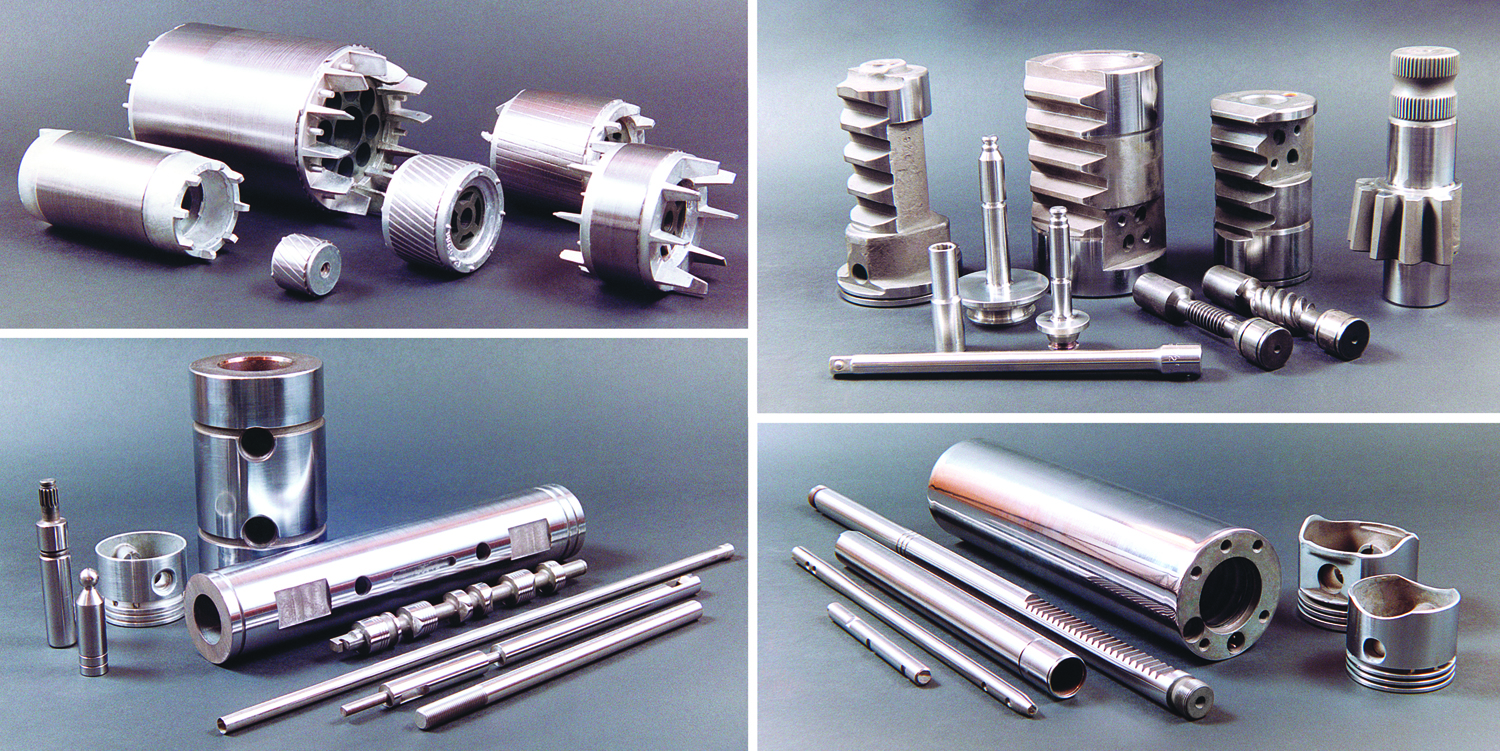 Standard Features (Dry & Wet)
Heavy-duty welded steel frame
Rubber-coated feed drum with hand-wheel adjusted skew angle

 

and mechanical counter
Electronic variable speed feed drum control
Head assembly(s) are mounted on dovetail slides

 

with mechanical counter
TEFC-rated abrasive belt/wheel motor with large diameter spindle
Digital ammeter for each head assembly
Large diameter contact drum and idler roller are

 

high-speed balanced
Pneumatic loaded idler roller with a mechanical tracking system
Hand-wheel adjusted part diameter and head pressure

 

Hand-wheel adjusted guide blade supports with standard

 

UHMW inserts
24-volt electric control panel with push button controls
3M #356 flanges, abrasive belts, and Scotch-Brite wheels
Available in belt head, brush head and/or buff head (dry only)

 

configurations
Dry only
Dust collection pickup(s)
Wet only
Manual

  

paper bed filter with clean tank, sludge bin

 

and clean fluid return pump (single-head model)
Automatic paper bed filter with 10 GPM flow rate

 

and 45-gallon tank

 

(multiple head models)
Two (2) flexible coolant nozzles per head
Stainless steel catch pan to contain water/coolant